It's a tradition here at Learning in Hand that I share some of the technology I've purchased during the year. You can also check out what I bought in 2011, 2010, and 2009. Some of the technology I purchased is completely practical and useful. Other items might just be fun or silly.
What do I do with technology I no longer use? For instance, what about my old iPads, iPhones, and laptops? I've found selling on eBay frustrating, so use Gazelle and Nextworth. I don't generally get as much as I would selling on eBay, but I also don't have to worry about the hassles of eBay auctions. It's nice that Gazelle and Nextworth provide free shipping labels.
I liked the products below enough to spend my own money on them—I didn't receive free or special deals on them. Please note that I may receive an affiliate's fee if you follow referral links.
If you watch my podcast, you know that I'm crazy for QR codes. Sometimes I want to print QR codes, so I ordered the Brother QL-570 label printer and am very happy with it. The handouts for my workshops and conference sessions are always online. I usually display a slide with the web address for the online handouts for participants to write down. But now I like to give them a sticker with the web address and its QR code. I can make stickers that are just the right size to place in a notebook. Participants can stick it somewhere as a reminder of our time together and for easy access.
This printer is great for teachers who want to enhance their textbooks. They can make a stickers that link to audio, video, or more information and adhere them to relevant pages. The text is now interactive!
This printer, by the way, does not use ink. It uses thermal printing. That means stickers can only be black and white, which is no big deal to me. It also means that's no need to ever buy expensive ink refills or ribbons. The label roll can print about 800 stickers (depending on the size you make them) and comes out to about 2¢ per sticker. It prints 68 labels per minute and automatically cuts each sticker. I've made hundreds of stickers in less than 10 minutes. It's fairly portable, too. I took the printer to the Georgia Educational Technology Conference last month because I wasn't sure how many labels I would need. So I printed labels as I needed them for my last breakout sessions.
I like to use a remote to click my way through presentations. I've used an aging Keyspan Presentation Remote for years. Using a remote allows me to walk about the room, instead of having to click my laptop's mouse button for each slide. (Or worse, we've all been subjected to presentations where there is a helper that takes orders from the presenter to advance the slides.) Yes, I know I can use an iPad, iPhone, or iPod touch to control my slideshows. However, remote apps have to be set up, and wirelessly pairing isn't very dependable. My adventures take me places where I have to set up quickly. So I like stick with a dependable and old-fashioned radio frequency remote. The receiver that plugs into USB, and there's no set up involved. It simply just works.
The Logitech Cube (which is actually a rectangular prism) is my new cool-looking (available in black or white) radio frequency remote. It has just one large button that you click/squeeze. While in PowerPoint or Keynote, clicking will advance to the next slide. If you need to go backwards, flip the Cube upside-down and click. The Cube can also be a wireless mouse and it charges via USB. I charge it once for every two days of usage. In addition to the high price tag, another negative is that I sometimes have to plug the tiny USB receiver into a USB hub into order to get it to work properly.
Last year I was excited about the $199 Kindle Fire. This year Google and Asus have teamed up to make a $199 Android tablet. Nexus 7 is a full featured tablet that can use apps from Google Play and Amazon Appstore for Android. And it's way better than last year's Kindle Fire. It runs the latest version of Android while the Fire runs its own operating system that has Android buried underneath.
Nexus 7 has a high-resolution seven-inch screen. Unfortunately, it only a font-facing camera. The missing rear-facing camera is its largest drawback for me because I would like to make movies on this device. While lacking a rear camera, it does have a feature that I wish Apple would bring to iPads: multiple user logins.
Until recently, notebooks running Google's Chrome Operating System were priced around $350. For that price, why wouldn't you just buy a Windows or Linux notebook instead? You could install the Chrome browser on a cheap notebook and have many more features than a Chromebook. You see, the Chrome OS is basically just Google's Chrome browser. Most of what we do is now browser-based, so having a computer that's just a browser might meet your needs. You certainly have access to Gmail and Google Drive. You can install apps from the Chrome Web Store. Chrome apps tend to simply be bookmarks to websites, so don't get too excited about apps on a Chromebook. You can access these same apps on Mac and Windows as well. While Chromebooks have webcams and microphones built-in, they cannot run Skype. If you want to video conference, you'll need to use a Google Hangout.
The Samsung Chromebook retails for $249. While it looks like an 11 inch MacBook Air, it doesn't feel like one. The Chromebook is made of plastic. But for the price, the keyboard isn't bad, and the machine boots up in seconds. The thing is, without a Wi-Fi connection, the Chromebook isn't all that useful. Yes, you can save Google Drive documents to the notebook's 16GB solid state memory, but that's not what it's really meant for. If you're not around reliable Wi-Fi, then a Chromebook isn't really for you. If you live and breath Google apps, however, this could be a nice second laptop. And for schools that use Google Apps for Education with their students, this certainly could be a devine device. That's mostly because you simply login with your Google account and the machine is ready with your Chrome bookmarks, apps, and settings. To learn more, read Kathy Schrock's first impressions of the Samsung Chromebook. Additionally, CNET has an article all about Chrome OS.
The Samsung Chromebook isn't the only low-cost Chrome OS laptop around. Acer sells the C7 Chromebook for $199.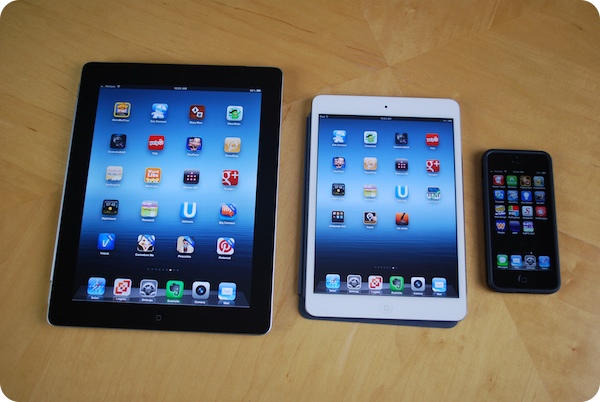 iPad 4th Generation, iPad mini, iPhone 5
As part of my job, I have to have the latest gear, right? Getting Apple's 2012 offerings wasn't cheap. Moving into new devices meant that I needed to replace my old Dock connector cables and adapters with Apple's new Lightning connector. That includes the Lightning to VGA and Lightning to USB adapters. While I don't like the added expense of the switch, I do like the smaller Lightning connector. It's reversible so you don't have to worry about which side faces up. Apple used the Dock connector for 10 years. Hopefully the Lightning connector sticks around for years to come.
To be honest, I didn't want to like the iPad mini. I think that we can do more with larger screens. However, the size and weight of iPad mini makes is perfect for walking around classrooms. The mini with its 7.9 inch screen is much more portable than iPads with 9.7 inch screens. I am used to Retina and hi-res displays on my phone, iPod, iPad, and Nexus 7. So iPad mini's screen is blurrier than what I'm used to. It's not awful, but the lower resolution is noticeable.
Of course, an Apple Device is just part of the expense. Then there's apps and media to buy. Do know that you don't have to have a credit card attached to your iTunes account? But even if you do, using iTunes cards for your personal purchases in the iTunes Store, iOS App Store, Mac App Store, and iBooks Store can save you money. I stock up on iTunes credit when I see sales. A few times a year retailers like Best Buy and Walmart sell iTunes cards online and in-store for 20% off. Because I only buy sale-prices cards, I'm saving 20% on every purchase I make in iTunes, the App Store, and the iBooks Store.
Another expense is accessories for my devices. I have bought various cables, connectors, and cases from Monoprice in 2012. They offer inexpensive HDMI cables, car USB chargers, iPhone 4 and 5 cases, iPad cases, and more. They also offer very reasonable shipping rates. DealExtreme also specializes in low cost cables and accessories. I use their car windshield mount with my iPhone when using a GPS app.
Swivl Personal Cameraman and Wireless Microphone
Place an iPhone or iPod touch into Swivl's base and it becomes your motorized cameraman. Swivl comes in two parts. The first is the wireless remote. It can be worn or held. The remote functions as a microphone and transmits an infrared signal to the base. The base is motorized and is programmed to follow the remote's infrared signal. The base can be set on a flat surface or mounted on a tripod.
Swivl's base requires AA batteries and the remote needs AAAs. The company says that Swivl will operate for four hours on a fresh set of batteries. Keep in mind that Swivl does not charge your device. Also know that recording video can take up loads of memory, so recording something longer than 30 minutes may be out of the question.
If you want to use Swivl with the newest iPhone or iPod touch with Lightning connector, you're going to have buy Apple's Lightning to 30-pin Adapter.
Swivl works as advertised. While it doesn't follow your every move, when you get close to the edge of the camera's view, Swivl will rotate to reposition the camera. There is room for improvement for Swivl to move more smoothly. The company says it will have future firmware updates that may improve its performance.
While the wireless microphone sounds terrific, it does have a bright green dot on it. The dot serves no function and I think it looks tacky and distracting in videos. Perhaps a black permanent marker or some paint can remedy it's ugliness.
Teachers who record their lectures could use Swivl to record important portions of their presentations. The video would follow the presenter, not any slideshows, so some post-production work might need to be done in order to combine the lecture with slides or visuals. Swivl could be handy for pairs of students making videos. The students would not need a third to be the cameraman. Swivl really is a niche product, but for those in the niche, Swivl can be very much worth its price tag.
I filmed a short video so that you can see Swivl in action. My original review was published on the Appcessories blog.
Braven Bluetooth 650 Bluetooth Speaker/PowerBank
Sometimes the school or classroom I visit does not have speakers or a sound system for my computer and iPad. I used to carry in my Grid-It a small hamburger speaker. In 2012 I upgraded to a Braven bluetooth speaker. It is larger than a hamburger speaker, but it is also louder and sounds much better. The very first time I used the speaker I paired it with my devices. Now all I have to do is turn on the Braven 650 and the sound from my iPad or iPhone is routed through the speaker. I can also directly connect the speaker to my computer or device if I don't want to mess with Bluetooth.
Another reason I purchased the Braven 650 is that it is a battery for my mobile devices. It has a USB port for charging. And yes, the Braven 650 is powerful enough to charge an iPad. I don't have to use it often as a battery backup, but it is comforting to know I have it in my backpack tucked away in my Grid-It in case I need it.
Dropcam HD Wireless Video Monitoring Camera
I'm away from home a lot and I like to keep tabs on my cats. Dropcam HD is great because I can watch in my web browser or in the iOS or Android app. It's pretty simple to set up and streams 720p video and sound. The night vision is great for checking up on cats when the lights are out. If you pay $9 a month, the Dropcam website stores two weeks worth of video for you to review. If you don't pay monthly, you can only access live video.
AR.Drone is an iOS/Android controlled quadricopter equipped with a camera. I bought the original AR.Drone in 2009. The 2012 version has a high-definition camera and is easier to control. It's essentially a flying camera! You can take still photos and record video right inside the app while you're flying. The drone is easy to crash and is delicate, so I'm a cautious pilot. One battery lasts about 12 minutes, so I have a couple extra so my flying fun doesn't have to end so quickly. It's an expensive toy, but a very, very awesome one.
Sphero is an iOS/Android controlled ball. It's pretty much the ultimate cat toy. It can change colors and there are a variety of game apps to use in conjunction with Sphero. I've taken it into classrooms studying 3-D shapes. But, truthfully, Sphero spends a lot of time on my shelf. If you like practical jokes, check out this video where Sphero is placed inside of an orange and rolls around the fruit aisle.
I've added the above items to my Products I Love board on Pinterest.